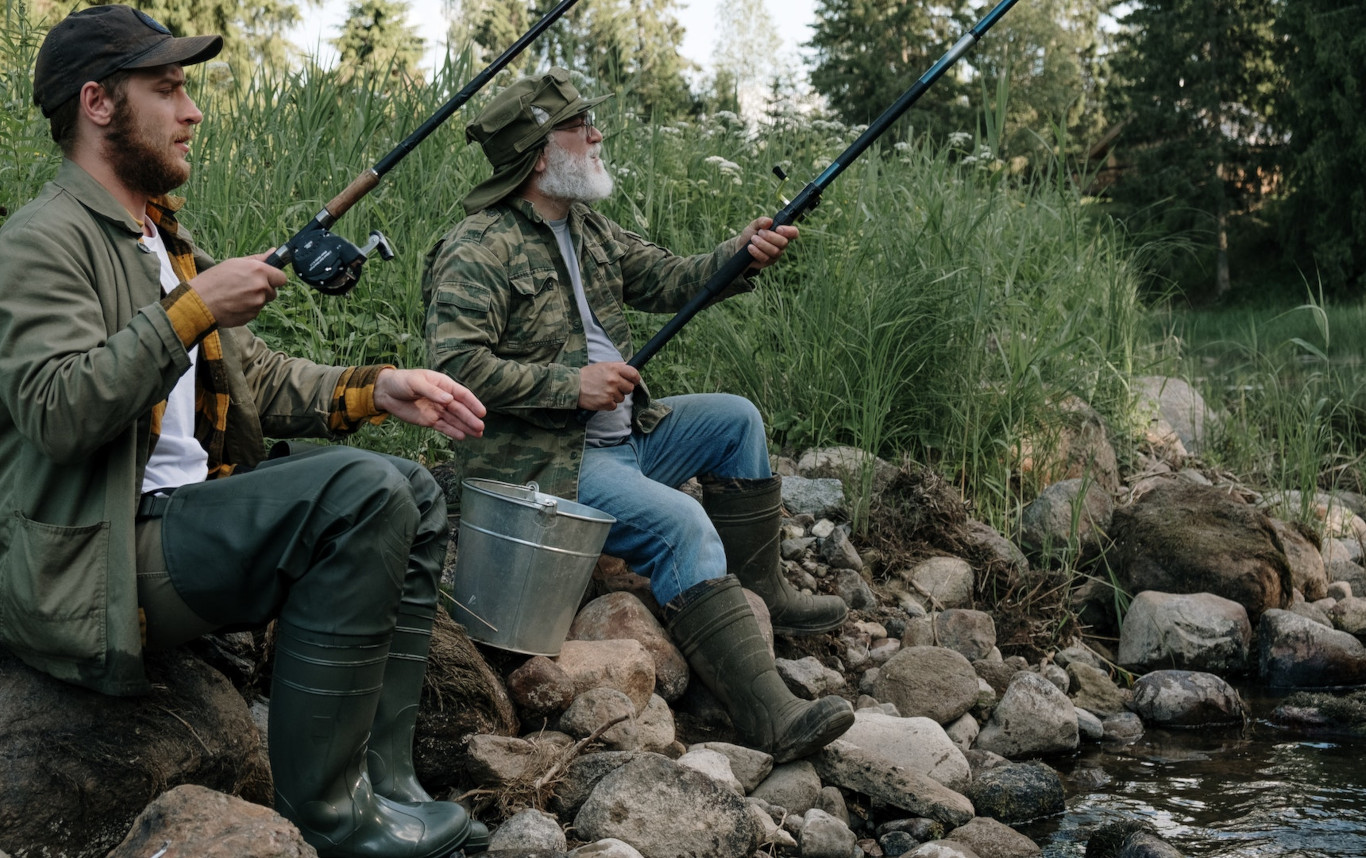 Fishing Hats
Season Sale & Free Shipping!
Black Friday Sale
Shop by Category
We Recommend
New In
Fan Favorites
On Sale
Best Sellers
Fishing Hats for Men
TheFishingHats.com is your one-stop destination for all types of high-quality fishing hats. We specialize in providing a wide range of fishing hats to meet the needs of anglers of all skill levels and fishing styles.
Our collection includes bucket hats, trucker hats, sun hats, visors, straw hats, and camo hats. Each hat is carefully crafted with the finest materials to ensure maximum comfort, durability, and protection from the elements.
Our bucket hats are perfect for anglers who want full coverage from the sun and rain while still maintaining breathability. Our trucker hats are ideal for those who want stylish and comfortable hats that will keep them cool during long fishing trips.
If you're looking for maximum protection from the sun, our sun hats are designed to shield your face, neck, and ears from harmful UV rays. Our visors offer a more lightweight option, providing shade for the eyes while keeping the head cool.
For those who prefer a more traditional look, our straw hats are a great option. They're lightweight, breathable, and offer excellent protection from the sun. Our camo hats are perfect for anglers who want to blend in with their surroundings, making them ideal for hunting and fishing trips.
At TheFishingHats.com, we're committed to providing our customers with high-quality hats that are both functional and stylish.
Tips From Our Blog
TheFishingHats has the perfect fishing hat for you: protection, style, and functionality.
Our chosen assortment of fishing hats offers a broad choice of styles and functions to meet your needs, whether you're an avid angler, outdoor enthusiast, or simply looking for reliable sun protection. Explore our categories, which are designed to appeal to diverse interests and fishing situations, and go fishing with confidence.
Baseball Caps: Timeless Design, Long-Lasting Comfort
Our baseball caps combine classic design with functionality, making them a favorite option among anglers. These caps, with their curved brims and adjustable straps, provide great sun protection while being pleasant to wear. Choose from a variety of colors and designs to complement your unique style, and enjoy a flexible hat that smoothly transitions from the water to everyday wear.
Boonie Hats: All-Day Comfort and Maximum Sun Protection
Our boonie hats are an ideal choice for individuals looking for optimum sun protection. These hats are designed to protect you from dangerous UV rays by having wide brims that give adequate shade to your face, neck, and ears. Our boonie hats provide outstanding comfort with adjustable chin straps, breathable fabrics, and mesh panels for ventilation, making them ideal for long fishing trips or outdoor adventures.
Bucket Hats: Stylish Versatility, Dependable Sun Protection
Bucket hats are a popular choice among fishermen due to their classic and informal appearance. Our assortment includes bucket hats made exclusively for fishing, with features like wide brims for sun protection and moisture-wicking materials for enhanced comfort. From plain hues to vivid patterns, you'll discover the ideal bucket hat to accent your fishing gear while also keeping you safe from the sun.
Camo Hats: Blend in and Stay Hidden
Our camo hats are an excellent choice for blending in with your surroundings and improving your fishing experience. These hats, with camouflage designs and earthy tones, let you stay hidden while fishing in natural settings. Our camo hats, made of sturdy fabrics with sweat-wicking characteristics, provide both usefulness and style for the enthusiastic angler.
Neck Flap Fishing Caps: Complete Coverage, Extra Protection
Our fishing caps with neck flaps are a game changer when it comes to total sun protection. These hats include expanded neck flaps that screen your neck and ears from damaging UV radiation, giving additional sunburn and heat protection. Whether you're fishing in open waters or in direct sunlight, our fishing caps with neck flaps ensure you can relax and enjoy your time on the lake.
Mesh Hats: Improved Ventilation and Breathability
With our mesh hats, you can stay cool and comfortable while fishing. These hats, made with permeable mesh panels, provide ideal airflow, keeping your head cool even in hot weather. The combination of moisture-wicking fabrics and ventilated design allows you to focus on your fishing while remaining comfortable and sun-protected.
Straw Hats: Coastal Vibes and Classic Appeal
Straw hats have a timeless appeal that is ideal for fishing trips along the coast or leisurely angling on sunny days. These hats, made of natural straw, are a breezy and lightweight solution that blends elegance and usefulness. Straw hats provide good sun protection while oozing a seaside feel that captures the essence of the fishing experience, thanks to their broad brims and an airy construction.
Sun Hats with Wide Brims for Maximum Sun Protection
Our sun hats are an excellent alternative for protecting yourself from the sun's rays. These hats provide great sun protection due to their wide brims that provide enough shade to your face, neck, and shoulders. Built-in UPF sun protection, moisture-wicking characteristics, and adjustable chin straps improve comfort and fit, allowing you to fish comfortably all day.
Trucker Hats: A Casual Look with a Breathable Design
Our trucker hats are a popular choice among fishing enthusiasts for a laid-back and casual style. The rear mesh panel of these hats improves ventilation, keeping your head cool during long fishing excursions. Our trucker hats offer both style and usefulness for fishermen of all levels with their classic trucker hat design, adjustable snapbacks, and many graphic possibilities.
Lightweight and functional visors
Our visors are a wonderful solution for people who desire a hatless look while still getting sun protection. Visors, with their open-top shape, provide shade for your face while allowing for optimal ventilation. The visor's lightweight structure and adjustable straps offer a comfortable fit on hot and sunny fishing days.
At TheFishingHats, we understand how important it is to select the proper fishing hat for your specific needs. Our carefully curated range of fishing hats has something for everyone, whether you value sun protection, style, breathability, or a mix of characteristics. Explore our categories, find the hat that best fits your fishing style, and go fishing with confidence and comfort. With the ideal fishing hat from TheFishingHats.com, you'll be ready to cast your line and make great memories.
Enhance Your Fishing Experience with Stylish and Versatile Designs
We at TheFishingHats.com think that aesthetics and usefulness can coexist. Our selection includes a variety of attractive and adaptable designs that not only give excellent sun protection and comfort but also improve your fishing experience. Our hats are meticulously picked to suit varied tastes and preferences, whether you want a classic baseball cap, a fashionable bucket hat, or a sleek camo design. Select a hat that complements your particular style, and go fishing with confidence and style.
Our fishing hats are made with care and premium materials to ensure durability and long-term performance. Our hats are designed to accompany you on multiple fishing expeditions, from robust brims that keep their form to premium fabrics that survive the rigors of outdoor experiences.
A Look at the Evolution of Fishing Hats: From Practicality to Iconic Style
Fishing hats have a long history dating back to the early days of angling when fishermen sought ways to shield themselves from the elements and improve their fishing experience. These hats grew from simple, practical additions to iconic emblems of fishing culture throughout time.
Fishermen in ancient civilizations wore wide-brimmed hats made of natural materials like straw or palm leaves to protect themselves from the blazing sun and to provide relief from the glare of the water. These early fishing hats were created to give protection while also increasing visibility, allowing fishermen to spot fish more quickly.
Angler hats evolved with fishing tactics and equipment. The industrial revolution introduced new materials like oilcloth and canvas into the fabrication of fishing caps in the late nineteenth and early twentieth centuries. These hats were frequently created with large brims that provided shade and weather protection, and their robust materials made them resistant to the severe circumstances faced during fishing expeditions.
Certain styles of fishing hats began to emerge as iconic icons throughout this time period. Because of its capacity to protect the face and neck from the weather, the bucket hat, with its circular crown and downward-sloping brim, became popular among fishermen. Trilby hats, with their distinctive short brims and indented crowns, also became popular among fashionable fishers.
The emergence of sport fishing and leisure angling in the mid-twentieth century prompted significant advancements in fishing cap design. Anglers began to favor lightweight materials, breathable fabrics, and specific features. Mesh panels were added for ventilation, adjustable straps for a snug fit, and moisture-wicking characteristics became critical for comfort during extended hours on the water.
Fishing hats have evolved into a variety of forms and designs that adapt to various fishing settings, personal preferences, and fashion trends. Baseball caps have a casual and sporty appeal, whilst boonie hats, with their wide brims and neck flaps, give maximum sun protection. Anglers can blend into their surroundings with camo hats, while straw hats radiate a classic seaside attitude. From visors to trucker hats, each style serves a certain purpose and has its own distinct personality.
At TheFishingHats.com, we honor the rich heritage of fishing hats while always innovating to satisfy the needs of today's anglers. Our selection includes a wide range of fishing hats that mix the best qualities of style, usefulness, and comfort. Each hat pays attention to fishing's tradition and heritage while embracing the most recent innovations in materials and design.
As you set out on your fishing expeditions, remember that you are one of a long line of dedicated anglers who have relied on these classic gear throughout history. Choose your ideal fishing hat from TheFishingHats.com and continue the tradition of protecting yourself from the elements with style, confidence, and a touch of timeless charm.
Connect, Share, and Get Inspired by Joining TheFishingHats.com Community
When you choose TheFishingHats.com, you join a vibrant and dedicated community of fishermen. Connect with like-minded people, share your fishing adventures, and benefit from the experience of seasoned anglers. Stay up to date on the newest fishing trends, advice, and exciting new releases by following us on our active social media sites.
We urge you to post your fishing stories, show off your catches, and share vital information with other members of TheFishingHats.com. Participate in active debates, get ideas for your next fishing trip, and connect with anglers from all around the world. We respect our community's collective expertise and companionship, and we invite you to join us.
Don't pass up the chance to meet other anglers, share your knowledge, and celebrate the love of angling with others. Follow us on social media, join in on our lively discussions, and let TheFishingHats.com community become your go-to resource for everything fishing.
We are committed to offering you high-quality fishing hats that provide protection, style, and usefulness. Join us as we go on amazing fishing adventures, learn new methods, and make memorable memories. Shop our selection, choose the ideal fishing hat for your next expedition, and join the TheFishingHats.com community now.